e-Learning @Grantleigh
Tuesday, 16 April 2019 07:06
1. How to set up an Android device to work on the Curro Network:
2. How to onboard a Windows 10 device that has been used:
3. How to onboard a Windows 10 Pro out of box device:
4. How to update a device from Windows 10 Home to Windows 10 Education version:
Tuesday, 13 November 2018 17:14
Curro offers a blended learning environment to ensure that students receive the best range of learning opportunities, both using technology and activities that may not require technology but will assist in developing other skills. In 2019 our school will continue to make use of ITSI Pro, which offers a comprehensive blended eLearning solution with off-line access to all eBooks, an integrated platform to seamlessly share educational resources such as multimedia files, notes and images and self-created content, tools for sharing newsletters, an integrated calendar, templates to create assessments and receive instant feedback, classroom activity monitor, roll-call, flashcards and access to learning and critical thinking tools. Real-time user analytics provide valuable insight into students' study behaviour and can be accessed by parents, teachers and heads.
Tuesday, 13 November 2018 17:12
To enable high-quality learning, we need to put tools in the hands of the students. Devices are important tools to aid a variety of activities – ranging from viewing and interacting with digital content, using games for learning, researching, collating and evaluating data, collaborating and communicating with other students, creating and sharing artefacts or presentations, coding, robotics and a multitude of other activities.
In 2019, we will expect all students to bring their own device to school to aid the learning process from Grade 8-12. There is a wide variety of devices to choose from, with many different specifications and form factors and the choice is yours to make – laptop / tablet / 2-in-1 device.
It is important that you review the Curro device requirements explained in Curro's "Choosing the right device" brochure when purchasing a device for your child. This brochure is attached and has been loaded as a resource on the D6 Communicator.
Textbooks
In the past, all Curro schools have charged a monthly e-learning fee that included the cost of e-textbooks. This fee will no longer be charged from 2019; the cost of purchasing textbooks will now be carried by the parents.
To purchase e-books from MyHub, please visit
Click on "Request user details" You will then be asked to insert the ID number of the parent linked to the registration of students at Grantleigh. The password will be sent to the email address linked to the ID number on the Curro administrative system.
From then on, your email address is the username.
Textbooks are a resource that aids the learning process and provide access to the essential knowledge that students will need. A textbook is, however, one of many tools that aid the learning process. In 2019 all students will be required to purchase either hard copy textbooks OR eBooks depending on the teachers' choice for their subject. Attached is a list of the prescribed textbooks – as you will see, some are hard copy and these can be purchased from Kenart or any other supplier of your choice. Some of the books will be ordered by the school and your account will be debited to cover the cost. The e-books will need to be purchased by you using the myHub portal - guidance on how to make eBook purchases through the MyHub portal is attached to this letter and has been loaded as a resource on the D6 Communicator. E-books will be available for purchase from 12 November 2018.
Regardless of whether textbooks are hard copy or e-Books, we still expect all students to bring their own e-devices to school. Please note that should a parent prefer to order hard copy books instead of the e-books, they may do so but we have not requested Kenart to stock these as the teachers have recommended using e-books.
In some subjects, teachers put together compilations of their own notes into booklets which are neat and students find them easy to study from. These work out very reasonable and where applicable, you will be charged for the issue of these books. The prices will vary depending on the size of the booklets – probably in the region of R20-R30 per book. You will be informed about this before your account is debited.
Tuesday, 13 November 2018 16:28
The Fourth Industrial Revolution is upon us and our world is evolving exponentially. Industries have already benefitted from the previous Digital Revolution in automating processes and are now starting to leverage emerging technology breakthroughs in fields such as artificial intelligence, robotics, the Internet of Things, 3-D printing, biotechnology and quantum computing.
This is not just a reality globally, but also for South Africa where both private and government sectors are already rethinking how they do business and run their organisations. This will have a major impact on our workforce, not only changing things for the better, but also compelling us to ensure that our society is equipped with the relevant skills to participate productively.
Curro ensures that students are prepared for this evolving world when they leave school. This includes academic success and having essential knowledge, as well as skills and attitudes to embrace the unknown and forge a path to being contributing and happy citizens in our country and globally.
Technology is one of the enabling factors in helping our students to construct knowledge and develop critical skills such as communication, collaboration, critical thinking, creativity, complex problem-solving, digital literacy, computational thinking, meta-cognition, motivation, resilience, reflection and empathy.
Although technology now plays a more important role in learning than ever before, the role of the teacher is equally important in ensuring the creation of innovative, 21st century learning opportunities for the development of these skills. There is still a place for pen and paper and other non-technology learning tools, and we don't expect any of our teachers and students to be using technology for every activity. It should be used when it is the right tool for the job and enhances or provides an opportunity for learning that cannot take place without the technology.
Using technology and incorporating opportunities for the development of skills also does not mean that we exclude what may be viewed as traditional or outdated teaching approaches such as direct instruction – some areas of the curriculum are best covered using this method.
Our teachers are provided with ongoing professional development opportunities to ensure that they are equipped to offer the most inspiring and effective learning opportunities for your children. To create innovative learning interventions, the school plans on leveraging competent teachers and technology to complement the solutions outlined below that we will be using in 2019.
Last Updated on Tuesday, 13 November 2018 17:12
Tuesday, 13 November 2018 09:34
Getting started




Where to access your e-books




You can read your e-books on your desktop, tablet or smartphone* when using the miEbooks app.

* see minimum device specs here.




Minimum device specifications




The miEbooks app is supported on multiple devices. Click here to find out what the minimum device specifications are.
Last Updated on Tuesday, 13 November 2018 16:09
Monday, 12 November 2018 17:52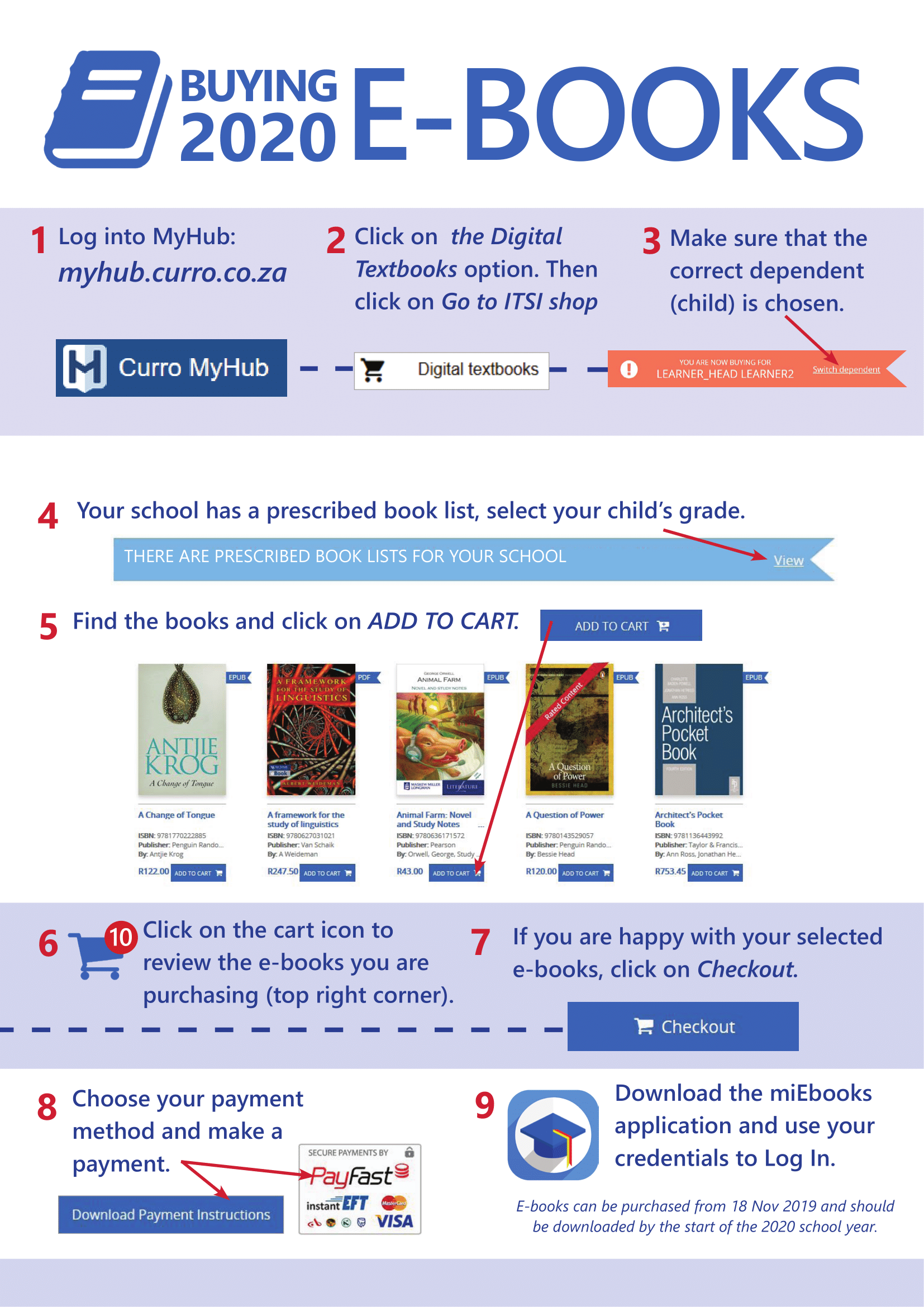 Last Updated on Tuesday, 13 November 2018 16:10
Monday, 12 November 2018 16:39
The ITSI Reader (miEbooks) is a free e-reader and has been integrated with MyHub.
The e-reader can be downloaded from any of the Apps Stores.
Download MIEBOOKS from the links below
Parents log into MyHub and are re-directed to the Curro Custom Store to purchase e-books from a
prescribed booklist as selected by the school. 
Parents can also purchase additional books or download free e-books for the library of more than
42 000 free e-books available on the Store.
Inside the Miebooks App learners can:
Create notes and freehand drawings
Highlight important text
Generate summaries
Create your own folders and upload content
Create flashcards for interactive studying
ITSI will provide online support as well as daily on-site support by our friendly
Grantleigh IT Staff.
Contact This e-mail address is being protected from spambots. You need JavaScript enabled to view it for further information
Last Updated on Monday, 12 November 2018 17:52
Monday, 12 November 2018 16:24
For a video animated detailed overview of choosing the right devices, please click HERE.
To download the English device brochure below in pdf format, please click HERE.
Monday, 12 November 2018 15:47
Steps taken by the mobile industry to protect children
The mobile networks have advanced technology to assist parents to protect children from accessing adult or inappropriate content on their cellphones. In addition, WASPA, the local industry association, has a protocol to allow consumers to lodge complaints regarding mobile services and SMS spam.
The mobile industry now enables parents (or guardians) to block access to adult content on their children's cellphones. Vodacom, for example, has a technical tool that allows you to block attempts to access adult content via a cellphone. MTN offers a parental control feature that blocks access to any mobile content. Cell C, however, does not have a technical solution to assist parents in protecting their children from access to adult or other mobile content.
Last Updated on Monday, 12 November 2018 15:48
Monday, 12 November 2018 15:36
Benefits of using MyHub:
Provides one portal for all communication regarding your child and his/her school activities
Order school uniforms online – uniforms can only be ordered online
See your latest school statements
Make payments to your child's school online quickly and easily
For your convenience:
Link the MyHub calendar to your personal Google or Outlook calendar.
Download the Curro iPhone and Android app from the App/Play Store to view all communication on your smartphone.
Download the Curro desktop app from our website under 'MyHub Note'. This will ensure that you receive notifications from MyHub straight to your desktop and you can also see detailed notifications on the MyHub site.
Using MyHub:
Log on to My Hub with the details you received when you enrolled your child/ren.
Please note that the school your child attends will provide a parent code.

How to resolve issues:
If you did not receive MyHub login details with your enrolment invoice OR are unable to log in using the details provided, please use the 'Recover MyHub login details' function.
Please use the account holder's details provided in the required fields on your child's enrolment form.
Your login details will be sent to the email address stipulated on the recovery form.
If this is unsuccessful, you will be directed to a secondary screen where you enter your contact details. A MyHub support representative will respond to your query.
If you require login details for more than one parent or more than one family code, or, if your child transferred to a new school, please contact MyHub support for assistance.
Please take note that each MyHub profile has its own unique email address. You need an email address for each person who requires login details.
Keep your personal information up to date in terms of your address, telephone and cellphone numbers and email address.
For any assistance please contact our MyHub support team at: This e-mail address is being protected from spambots. You need JavaScript enabled to view it OR 087 285 1699.
GRIT Concept Lounge:
Once you have logged on to MyHub, select SHOPand proceed to the online store.
Select the items to be added to your cart, check out and pay.
Expect delivery of your order at your nominated address within four working days. Deliveries are done from Mondays to Fridays, between 08:00 and 17:00.