Thought for the Day
"Everyone you will ever meet knows something you don't" - Bill Nye
Enrolment Information
Tuesday, 13 November 2018 09:34
Getting started




Where to access your e-books




You can read your e-books on your desktop, tablet or smartphone* when using the miEbooks app.

* see minimum device specs here.




Minimum device specifications




The miEbooks app is supported on multiple devices. Click here to find out what the minimum device specifications are.
Last Updated on Tuesday, 13 November 2018 16:09
Tuesday, 16 April 2019 07:06
1. How to set up an Android device to work on the Curro Network:
2. How to onboard a Windows 10 device that has been used:
3. How to onboard a Windows 10 Pro out of box device:
4. How to update a device from Windows 10 Home to Windows 10 Education version:
Monday, 12 November 2018 17:52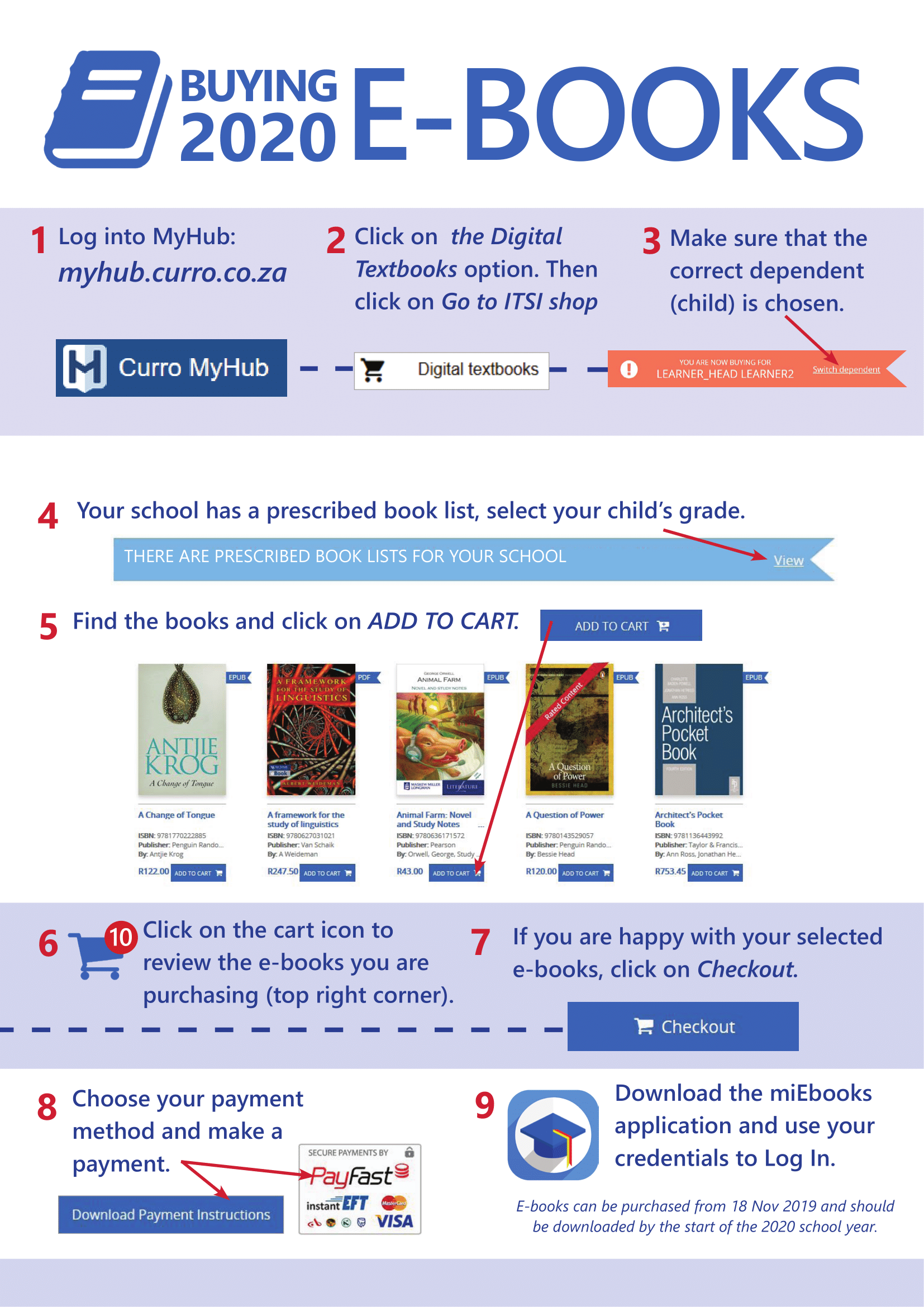 Last Updated on Tuesday, 13 November 2018 16:10
Monday, 12 November 2018 16:39
The ITSI Reader (miEbooks) is a free e-reader and has been integrated with MyHub.
The e-reader can be downloaded from any of the Apps Stores.
Download MIEBOOKS from the links below
Parents log into MyHub and are re-directed to the Curro Custom Store to purchase e-books from a
prescribed booklist as selected by the school. 
Parents can also purchase additional books or download free e-books for the library of more than
42 000 free e-books available on the Store.
Inside the Miebooks App learners can:
Create notes and freehand drawings
Highlight important text
Generate summaries
Create your own folders and upload content
Create flashcards for interactive studying
ITSI will provide online support as well as daily on-site support by our friendly
Grantleigh IT Staff.
Contact This e-mail address is being protected from spambots. You need JavaScript enabled to view it for further information
Last Updated on Monday, 12 November 2018 17:52
Monday, 12 November 2018 15:36
Benefits of using MyHub:
Provides one portal for all communication regarding your child and his/her school activities
Order school uniforms online – uniforms can only be ordered online
See your latest school statements
Make payments to your child's school online quickly and easily
For your convenience:
Link the MyHub calendar to your personal Google or Outlook calendar.
Download the Curro iPhone and Android app from the App/Play Store to view all communication on your smartphone.
Download the Curro desktop app from our website under 'MyHub Note'. This will ensure that you receive notifications from MyHub straight to your desktop and you can also see detailed notifications on the MyHub site.
Using MyHub:
Log on to My Hub with the details you received when you enrolled your child/ren.
Please note that the school your child attends will provide a parent code.

How to resolve issues:
If you did not receive MyHub login details with your enrolment invoice OR are unable to log in using the details provided, please use the 'Recover MyHub login details' function.
Please use the account holder's details provided in the required fields on your child's enrolment form.
Your login details will be sent to the email address stipulated on the recovery form.
If this is unsuccessful, you will be directed to a secondary screen where you enter your contact details. A MyHub support representative will respond to your query.
If you require login details for more than one parent or more than one family code, or, if your child transferred to a new school, please contact MyHub support for assistance.
Please take note that each MyHub profile has its own unique email address. You need an email address for each person who requires login details.
Keep your personal information up to date in terms of your address, telephone and cellphone numbers and email address.
For any assistance please contact our MyHub support team at: This e-mail address is being protected from spambots. You need JavaScript enabled to view it OR 087 285 1699.
GRIT Concept Lounge:
Once you have logged on to MyHub, select SHOPand proceed to the online store.
Select the items to be added to your cart, check out and pay.
Expect delivery of your order at your nominated address within four working days. Deliveries are done from Mondays to Fridays, between 08:00 and 17:00.
<< Start < Prev 1

2

Next

>

End

>>


Page 2 of 2